2017 White Knoll High School Fall Silver Showcase
Saturday, September 23rd, 2017
The White Knoll High School Marching Band is pleased to be hosting the Fall Silver Showcase.  We look forward to seeing you there!
CLICK HERE TO REGISTER FOR WKHS 2017 FALL SILVER SHOWCASE
Please see our Flow and Parking Map Below.  Click HERE for a printable PDF or click the map below for remote use.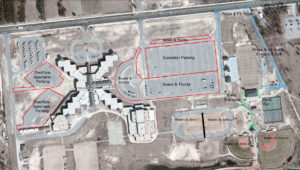 Entry Fee: Entry Fees paid on or before May 31st, are discounted to $50.  Entry Fees paid June 1st and later are $75.
Classifications: Bands will be placed in one of five classes.  Class 1A: less than 35 band members; Class 2A: 36-60 band members; Class 3A: 61-85 band members; Class 4A: 86-110 band members; Class 5A: 111 or more band members.
Scoring: SCBDA formatting will be followed.  With the exception of no individual music or visual judges.
Awards & Trophies: Bands will be given Ratings Awards.  As well as awards for 1st, 2nd & 3rd place in each Class.  Awards will also be given for Best Music Performance, Best Visual Performance, Best Percussion and Best Colorguard in each Class.
Adjudication: Well-known and respected adjudicators will assess each band in the following captions: Music Performance (40%); Visual Execution (30%); Overall Effect Music (15%); and Overall Effect Visual (15%).  In addition, each band will be assessed in Percussion and Colorguard.
For more information, please contact WKHSSilverShowcase@gmail.com.