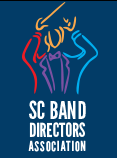 The White Knoll High School Band is proud to Host the South Carolina Band Directors Association's Lower State 2A/4A Championship on October 21st, 2017.
If you have any questions at all, you can reach us on our Facebook Event Page or via email at lowerstate2a4a@gmail.com.
Directions & Parking
White Knoll High School is located at 5643 Platt Springs Rd, Lexington, SC 29073.
Directions from I-20:
Take Exit 55 from I-20E or Exit 55A from I-20W.
Head South on SC Hwy 6 / S. Lake Dr for approximately 4 miles.
Turn Right onto SC Hwy 602 / Platt Springs Rd.
The school will be on your left.
Directions from I-26:
Take Exit 113 from I-26.
Head West on SC Hwy 302 / Edmund Hwy for approximately 1 mile.
Turn Right onto John N. Hardee Expressway, travel for approximately 1.5 miles.
Turn Left onto SC Hwy 602 / Platt Springs Rd, travel for approximately 7.5 miles.
The school will be on your left.
Look for a large white parking banner! Spectator parking is to the left while only buses and trucks will be routed to the right.  If  the first lot is full, we have two additional overflow parking areas.  The first is on Maria Lane just passed the school building.  The second is across the street from the school in the churches parking lot.  There is no cost for parking.
Gates will open at 9:30 am. The 2A performances begin at 11:00 am with 2A awards at 3:45 pm. The 4A performances begin at 5:15 pm with 4A Awards at 9:45 pm.
Tickets are $10 for adults and $6 for students.
Event Shirts will be available for purchase for $15 on site!
Food Trucks & Concessions will be open at 9:30 am.  As of now, the Food Trucks to be on site are Carolina Cookin', Flying Fish, The Haute Dog Lady, Kinda Cheezy, The Donut Guy, Pelican's SnoBalls and Crazy Nuts.  Our Concession Stands will also be selling Marco's Pizza, drinks, popcorn and candy.
Product Vendors will also be on site!  We will have Carolina Crown and Bead Weaver.
*Please remember that the Food Truck & Product Vendors offerings on their website may differ slightly from the products they will have on site at the event.
Programs will be available for purchase.  As soon as we've set a price for these, we'll update that here.