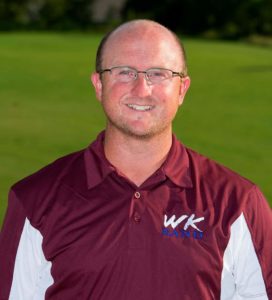 Tom Padgett has served as the Assistant Director of Bands for Dobyns-Bennett High School since July 2013.  Mr. Padgett completed his Bachelor of Arts degree in Music Education at the University of Virginia's College at Wise in December of 2008, studying trumpet with Dr. Donald Sorah and Dr. David Champouillon.  Mr. Padgett recently finished his Master's degree in Educational Leadership and Policy Analysis from East Tennessee State University in December 2015.  Mr. Padgett has also served as the Director of Bands and Program Coordinator at Tennessee High School in Bristol, TN from July 2010 to July 2013, before moving to Dobyns-Bennett High School.
Mr. Padgett brings an array of World Class musical and visual experience to White Knoll through his performance experience and teaching experience in Drum Corps International and WGI.  Mr. Padgett has performed with the Madison Scouts Drum and Bugle Corps in 2005 and The Cast Winterguard from upstate SC from 2005-2007.  Mr. Padgett was also a staff member with The Glassmen Drum and Bugle Corps in 2009, Phantom Regiment Drum and Bugle Corps in 2010, and was the Director of Southeast Independent Winterguard from 2009-2015.
He has helped lead the Dobyns-Bennett Band and Winterguard to three BOA and WGI National Semi-Finalist achievements, as well as numerous BOA Regional Championships and CIPA class Championships.  Mr. Padgett has also served on the board of the East Tennessee Band Directors Association as the ETSBOA Upper Area Representative.  His professional affiliations include NAfME, East Tennessee Band and Orchestra Association, International Trumpet Guild, Tennessee Music Educators Association, the National Band Association, the National Education Association, and the Tennessee Education Association. Mr. Padgett also serves on the Advisory Board and is the current Scholastic A/AA Representative for CIPA.